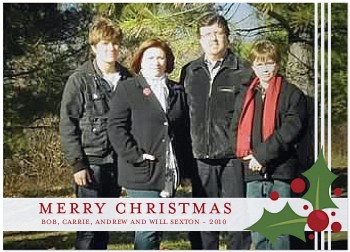 Holly Frame Christmas Card
Our family tradition continues with a photo on our Christmas card. This is probably the most stressful thing I do all Christmas season. My family is horrible about getting in close range and having a picture taken. I promised them that this year would be the last year for a family photo on our Christmas card (wink, wink I am hoping they will forget by next year) I don't know why they fight me so I having taken endless pictures of them since the day they were born.
I had our pictures made by Shutterfly this year and it was so easy and they are having a sale, my two favorite things.They will even stamp and address you card if you wish. How great is that.
This reminds me of a story a friend of mine told me about her son. He had a bad dream a few nights ago and he was telling his Mom that he needed a few moments to recover from this dream before he started his day. She asked him to tell her the dream....it went like this
Well Mom, he said, I was at the edge of a cliff and I wanted to look over the edge to see what was at the bottom so I took a step and my foot was at the very edge of the cliff but as I leaned over to take a look I fell off the edge, I was falling and falling, and I was yelling for you but all you were doing was standing at the edge of the cliff taking pictures!
What poignant dream right, because in theory we know it to be true!
Enjoy your family and friends this Christmas and don't forget to take LOTS of pictures.
Happy Christmas Crafting
Carrie